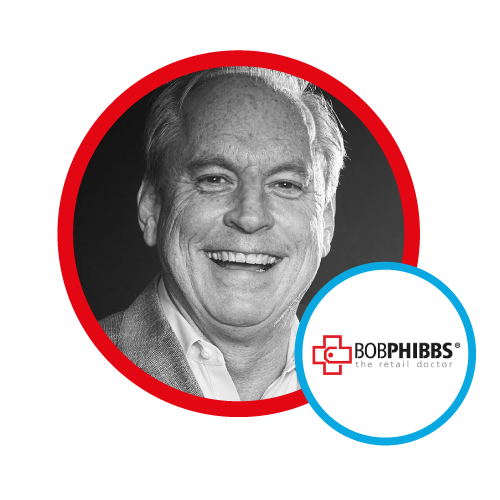 Bob Phibbs, CSP is an internationally recognized business strategist, customer service expert, sales coach, author of three books, podcaster, and motivational business speaker known for his high-energy content, passion for retail, and immediately actionable takeaways. 

In 1994, Phibbs founded his retail consulting company, The Retail Doctor, and created SalesRX, a strategic done-for-you online retail sales training program.  Phibbs was awarded the World Retail Forum's Innovation Leadership Award 2020 in recognition of his efforts to help retail recover stronger from COVID-19 through his online training platform SalesRX and relentless messages of hope.

The firm specializes in working with retailers and brands who want to sell their merchandise more profitably. The clientele has included many of the Fortune 500 including Brother, Hunter Douglas, Lego, and Yamaha. 

Bob was named one of the top retail influencers, has nearly 400,000 followers on LinkedIn and his website and blog have been named Best On The Planet For Retail by Feedspot. He is listed on over twenty retail influencer lists, often as #1.

He hosts Tell Me Something Good About Retail, the #1 podcast for retailers who want to grow their business.  He and his work have been featured in articles in Entrepreneur, The New York Times, and The Wall Street Journal. He performs business makeovers for the Los Angeles Times and is a member of the National Speakers Association.

Phibbs received the highest increase in sales from South Coast Plaza, at that time the highest-grossing mall in the USA. He has worked with over a thousand retail executives and entrepreneurs to grow margins, improve customer service, and train employees.
All Sessions by Bob Phibbs
Conference Day 2
12/07/2021 9:00 am
Keynote Address: Being Brilliant On The Basics
Conference Day 1
12/06/2021 9:00 am