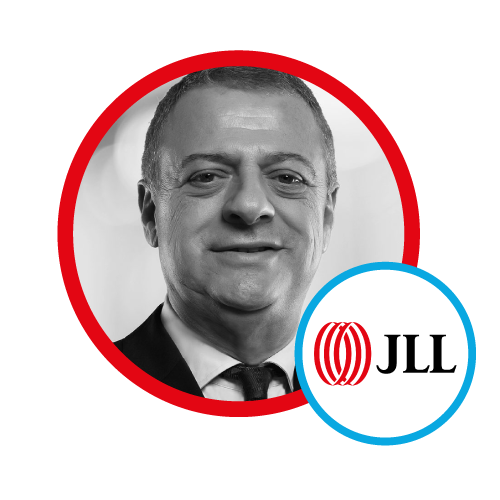 With more than 30 years of industry experience, Avi Alkas is a trailblazer in the commercial real estate market. He is personally responsible for introducing the "mall" concept to Turkey in the late 1980's and set the terms and standards for retail leasing, shopping center management and concept development in Turkey. Earlier in his career, he initiated and developed projects like Akmerkez, Carousel and the İzmir Outlet Center. In 1997, Avi established his own consulting company (Alkas CS Management) and then went on to develop a whole string of projects including Maxi, Karada Marina, Olivium, Tepe Nautilus, Optimum, Armada, KayseriPark, KoruPark, İstinyePark and Kent Meydanı.

In 2008, Avi's firm was acquired by Jones Lang Lasalle (JLL), a leading American real estate services and investment management firm, and the second largest firm of its kind in the world with total assets in excess of $10billion. Following the merger, Avi Alkas was appointed Country Chairman of JLL Turkey. During his presence of 13 years relying on his broad knowledge of the local retail/real estate market, Avi went on to leave his imprint on projects like Cevahir, Antares, ViaPort, Ronesans SC Projects, Ozdilek, SankoPark, MalatyaPark, DemirPark, Kozzy, Afium, KentPark, GebzeCenter, Vialand, Zorlu and the Family Mall Erbil. And now he is the Country Chairman of JLL Israel.

In addition to Alkaş Retail Services Company that organises conferences and fairs for retail and real estate sector like Mapic & Mipim, he is one of the partners of a boutique hotel called Miamai in Bozburun. Apart from hotel business, now he formed a common workspace called "HAN" in 2020. And during pandemi he set up a new digital platform for sector conferences and info sharing platform called Digital Network Alkaş- DNA.

Alkaş, continues to serve market with the philosopy of "Working with people, for People, to create Happy Places and Time"

He is the member and founder of many proffesional organisations like AYD, TAMPF, TUSİAD, TOBB Retail Court. And works in non profit organisations like Turkey One – Yanındayız, Turkish Jewish Society.

With numerous accolades to his credit and professional titles of distinction, Avi Alkas is also a member of the ICSC (International Council of Shopping Centers) and a member of its European Advisory Board where he has served as Jury Chair of the esteemed ICSC European Shopping Centre Awards. He was also honoured with the ICSC Distinguished Service Award in 2010 and is a regular faculty member of the ICSC J.T. Riordan School for Professional Development. .

Married with Gina Alkaş and father of Emir & Alp. Avi Alkas graduated from Robert College in 1975 and was awarded an MA degree in Business Administration from Bosphorus University in 1981. Avi, born in 1956, holds international proffesional titles as MRICS, CRX, CSM, CMD and CLS. After his son Alp passed away in 2012, he formed Alp Alkaş Retail and Real Estate Center within Özyeğin University. And supporting new proffesionals with special designed certificate programs for the industry.
All Sessions by Avi Alkaş
Conference Day 2
12/07/2021 9:00 am
Keynote Address: A Discussion On Stage: The Impact Of Israel In The GCC Retail Market
Conference Day 1
12/06/2021 9:00 am